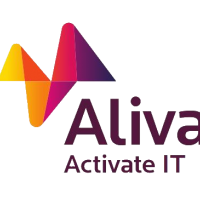 QAssure Details
QAssure number
10031

GITC number

Q-1843
General Contract
Comprehensive Contract
Supplier's Terms and Conditions
Bespoke Contract
Small-to-medium Business (SME)
Yes
QAssure Commencement Date
01/08/2014
Review Date
31/12/2017
Legal Entity Name
Aliva Pty Ltd
Trading Entity Name
Aliva Pty Ltd
ACN/ARBN/Overseas Org No.
100729977
ABN
41100729977
Street Address
3 Marie St, Milton, Brisbane, Queensland, 4064, Australia
Postal Address
PO Box 1809, Milton, Queensland, 4064, Australia
Phone Number
07 3505 5000
Fax Number
07 3367 1911
Email
ldunn@aliva.com.au
Sales Contact

Mr

Les

Dunn

LDunn@aliva.com.au

+61735055000

Website Address
www.aliva.com.au
Executive Summary
Aliva is a Brisbane-based IT Solutions provider proud of its SME heritage and its ability to be truly agile, responsive and flexible. We deliver cost-effective ICT solutions and strategies to a large customer base spanning commercial, government, education & not-for-profits. We have strong partnerships with world leading vendors including Microsoft, Lenovo, HP, ACER, Sophos, Toshiba, Nimble Storage, APC, VEEAM and more. We take a "no fuss" approach to doing business & deliver on our promises.
Capabilities
Note: For those suppliers who currently hold GITC accreditation, to confirm GITC accredited modules and for copies of GITC documentation please contact GITC directly at gitc@qld.gov.au or Ph 07 3719 7689.
Components
Desktop
Mainframe
Midrange and Servers
Printed Circuit Boards
Hubs, Routers and Switches
LAN/WAN/MAN Data Communication Equipment
Line, Trans-missioning and Broadcasting Equipment
PABX System
Premises Cabling and Cabling Equipment
Radio Equipment
Satellite Equipment
Printers
Semi-conductors
Smart Cards
Storage Devices
Videoconferencing Equipment
Wireless Communications Equipment - Data
Wireless Communications Equipment - Voice
Hardware Market - Other
Maintenance/Support
Preventative Maintenance Services
Remedial Maintenance Services
Case, Software Development Tools
Communications, Networking and Middle-ware
Database and Database Administration
Diagnostic Software Tools
Human Computer Interface
Network, System and Application Management
Operating System
Programming Language
Security Management
Transaction Processing Monitor
System Software - Other
HR Management
Intranet/Internet Related
Modeling, Analysis and Decision Support
Multimedia Presentation
Office Automation
Application Software - Other
Developed Software
Web Design and Development
Developed Solutions
Web Services
Modifications
Help Desk Services
Maintenance/Support
Packaged Software
Project Services
Recruitment Services
Contracting Services
ICT Security and Data Encryption
Programming
Project Management
System Analysis
Software Training
Audits
Consulting - Information
Disaster Recovery
Project Management
Risk Management Services
Business Network and Strategic Alliance Facilitation
Communication Technology Consulting - Telecommunication
ICT Facilities Management
Telecommunications Facilities Management
System Integration
Content/Information Provider
Provider Equipment on Customer Premises
Infrastructure Provider
Radio Services
Satellite Services
Service/Access Provider - Mobile Data
Service/Access Provider - Mobile Voice
Service/Access Provider - Terrestrial Data
Service/Access Provider - Terrestrial Voice
Telecommunications - Other
Filtering Services
Hosting Services
Remote Access Services
Internet Domain Name Services, incl. Registration