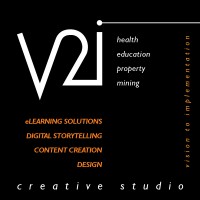 QAssure Details
QAssure number
10715

GITC number

Q-4820
Small-to-medium Business (SME)
Yes
QAssure Commencement Date
29/07/2014
Review Date
27/07/2017
Legal Entity Name
V2i Pty Ltd
Trading Entity Name
V2i Pty Ltd
ACN/ARBN/Overseas Org No.
079810307
ABN
96079810307
Street Address
Unit 1, 36-38 Newheath Drive, Arundel, Queensland, 4214, Australia
Postal Address
P.O. Box 3580, Helensvale, Queensland, 4212, Australia
Phone Number
07 5580 4497
Fax Number
07 5580 4419
Email
luke.b@v2i.com.au
Sales Contact

Mr

Luke

Brannelly

luke.b@v2i.com.au

07 5580 4497

Website Address
www.v2igroup.com.au
Executive Summary
The V2i Group is a multi-award-winning digital creative studio and software developer, providing innovative design and technology-based solutions to a high-profile portfolio of national and international clients. Our award accomplishments rest on the improvement of communication and collaboration practices through the use of visual literacy software tools to empower users to make faster, easier, and better-informed decisions to improve overall business efficiencies and outcomes.
Capabilities
Note: For those suppliers who currently hold GITC accreditation, to confirm GITC accredited modules and for copies of GITC documentation please contact GITC directly at gitc@qld.gov.au or Ph 07 3719 7689.
System Software - Other
Intranet/Internet Related
Modeling, Analysis and Decision Support
Multimedia Presentation
Application Software - Other
Developed Software
Web Design and Development
Developed Solutions
Web Services
Modifications
Packaged Software
Contracting Services