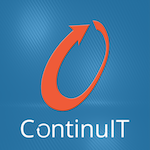 QAssure Details
QAssure number
13012
General Contract
Yes View contract
Comprehensive Contract
Supplier's Terms and Conditions
Bespoke Contract
Small-to-medium Business (SME)
Yes
Indigenous Business

To qualify as an indigenous business, a business must either: be at least 50% owned by Aboriginal or Torres Strait Islander people; employ at least 75% Aboriginal or Torres Strait Islander people; be an equal joint venture agreement with a majority-owned Aboriginal or Torres Strait Islander business entity.

QAssure Commencement Date
05/03/2018
Review Date
05/03/2019
Legal Entity Name
ContinuIT Pty Ltd
Trading Entity Name
ContinuIT
ACN/ARBN/Overseas Org No.
140859267
ABN
58302574688
Street Address
43 Dunrod St, Holland Park West, Queensland, 4121, Australia
Postal Address
Suite 3027 Clunies Ross CourtEight Mile Plains, Queensland, 4113, Australia
Phone Number
0733496001
Fax Number
Email
info@continuit.com.au
Sales Contact

Mr

Glenn

Rieger

sales@continuit.com.au

0488333179

Website Address
http://continuit.com.au
Executive Summary
ContinuIT Pty Ltd is primarily an ICT consulting company specialising in ICT Reviews, Infrastructure Management, ICT Strategic Planning, Solutions Design, DR, IT Operations and Business Intelligence (Data Analytics). In addition to these services, ContinuIT can also provide hardware and software and IT support services. ContinuIT can also provide Web Design and hosting services for the WordPress platform.
Capabilities
Note: For those suppliers who currently hold GITC accreditation, to confirm GITC accredited modules and for copies of GITC documentation please contact GITC directly at gitc@qld.gov.au or Ph 07 3719 7689.
Desktop
Midrange and Servers
Hubs, Routers and Switches
LAN/WAN/MAN Data Communication Equipment
Printers
Storage Devices
Wireless Communications Equipment - Data
Database and Database Administration
Operating System
Programming Language
Intranet/Internet Related
Office Automation
Application Software - Other
Web Design and Development
Maintenance/Support
Consulting - Information
Disaster Recovery
Project Management
Communication Technology Consulting - Telecommunication
Hosting Services
Internet Domain Name Services, incl. Registration
Contracting Services
Project Management
System Analysis
Audits