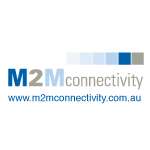 QAssure Details
QAssure number
13618

GITC number

Q-6016
General Contract
Comprehensive Contract
Supplier's Terms and Conditions
Bespoke Contract
Small-to-medium Business (SME)
Yes
QAssure Commencement Date
12/11/2015
Review Date
12/11/2018
Legal Entity Name
M2M Connectivity Pty Ltd
Trading Entity Name
M2M Connectivity Pty Ltd
ACN/ARBN/Overseas Org No.
102703319
ABN
14102703319
Street Address
12 Woodfern Crt, Samford Valley, Queensland, 4520, Australia
Postal Address
P.O. Box 702, Samford Valley, Queensland, 4520, Australia
Phone Number
03 96963011
Fax Number
03 93721588
Email
info@m2mconnectivity.com.au
Sales Contact

Mr

Sean

Taylor

sean.taylor@m2mconnectivity.com.au

0421724844

Website Address
www.m2mconnectivity.com.au
Executive Summary
M2M Connectivity is a specialist distributor for leading wireless modules and modems for machine to machine ('M2M') communications and wirelessly enabling the Internet of Things (IoT). We provide a range of M2M services to the market including tailored data plans, static IP services, software development and support, and hardware certification. We offer hardware solutions in cellular, satellite as well as SIGFOX, LoRAWAN, CAT M1 technologies supported by our local engineering team.
Capabilities
Note: For those suppliers who currently hold GITC accreditation, to confirm GITC accredited modules and for copies of GITC documentation please contact GITC directly at gitc@qld.gov.au or Ph 07 3719 7689.
Components
Satellite Equipment
Wireless Communications Equipment - Data
Wireless Communications Equipment - Voice
Developed Solutions
Communication Technology Consulting - Telecommunication
System Integration
Satellite Services
Service/Access Provider - Mobile Data
Telecommunications - Other
LAN/WAN/MAN Data Communication Equipment
Radio Equipment