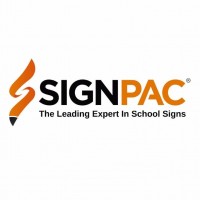 QAssure Details
QAssure number
19567
General Contract
Yes View contract
Comprehensive Contract
Yes View contract
Supplier's Terms and Conditions
Bespoke Contract
Small-to-medium Business (SME)
Yes
Indigenous Business

To qualify as an indigenous business, a business must either: be at least 50% owned by Aboriginal or Torres Strait Islander people; employ at least 75% Aboriginal or Torres Strait Islander people; be an equal joint venture agreement with a majority-owned Aboriginal or Torres Strait Islander business entity.

QAssure Commencement Date
13/12/2017
Review Date
13/12/2018
Legal Entity Name
Signpro Australia Pty Ltd
Trading Entity Name
Signpac
ACN/ARBN/Overseas Org No.
160435558
ABN
65160435558
Street Address
20/45 Leighton PlaceLevel 6/140 Creek Street, Brisbane 4000Hornsby, Queensland, 2077, Australia
Postal Address
P.O Box 1781, Hornsby Westfield, Queensland, 1635, Australia
Phone Number
1800149940
Fax Number
02 99874911
Email
larry.wainstein@signpac.com.au
Sales Contact

Mr

Darrin

Kitchener

darrin.kitchener@signpac.com.au

0404574899

Website Address
www.signpac.com.au
Executive Summary
Signpac has been a leader in providing high quality signage with professional service to the Australian education sector for more than 22years. Specialising in traditional signage and digital LED electronic signs in schools, colleges, universities and corporate.
Capabilities
Note: For those suppliers who currently hold GITC accreditation, to confirm GITC accredited modules and for copies of GITC documentation please contact GITC directly at gitc@qld.gov.au or Ph 07 3719 7689.
Components
LAN/WAN/MAN Data Communication Equipment
Communications, Networking and Middle-ware
System Software - Other
Application Software - Other
Developed Software
Developed Solutions
Help Desk Services
Maintenance/Support
Project Services
System Integration
Content/Information Provider
Provider Equipment on Customer Premises
Infrastructure Provider