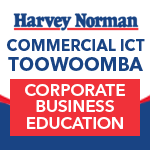 Business Ready QAssure Details
Business Ready QAssure number

21027

Legal Entity Name
TOOWOOMBAVIT NO 2 TRUST
Trading Entity Name
HARVEY NORMAN AV/IT TOOWOOMBA
Website Address
WWW.HARVEYNORMAN.COM.AU
Street Address
910-932 Ruthven Street, Toowoomba, Queensland, 4350, Australia
Phone Number
0746367362
Small-to-medium Business (SME)
Yes
Indigenous Business
No

To qualify as an indigenous business, a business must either: be at least 50% owned by Aboriginal or Torres Strait Islander people; employ at least 75% Aboriginal or Torres Strait Islander people; be an equal joint venture agreement with a majority-owned Aboriginal or Torres Strait Islander business entity.

Financial Check
Yes
General Contract
Yes View contract
Comprehensive Contract
Yes View contract
Supplier's Terms and Conditions
Yes View contract
Bespoke Contract
Yes View contract
Commencement Date
31/01/2019
Review Date
11/06/2021
ACN/ARBN/Overseas Org No.
618635135
ABN
46167273439
Postal Address
PO BOX 7079, Toowoomba, Queensland, 4350, Australia
Fax Number
Email
agustin.romero@au.harveynorman.com
Sales Contact

Mr

Joel

Yeoman

joel.yeoman@au.harveynorman.com

07 46367362

Executive Summary
Harvey Norman Commercial is a dedicated, service orientated team that strives to provide IT and business solutions for businesses of any size or industry. Our customers range from retail companies through to schools, mining and government organisations. We can assist with product selection, costing, technical information, tender pricing and full installations.
Capabilities
Note: For those suppliers who currently hold GITC or QITC accreditation, to confirm accredited modules and for copies of documentation please contact QITC directly at qitc@qld.gov.au
Components
Desktop
Facsimile
Midrange and Servers
Printed Circuit Boards
Hubs, Routers and Switches
LAN/WAN/MAN Data Communication Equipment
Line, Trans-missioning and Broadcasting Equipment
PABX System
Premises Cabling and Cabling Equipment
Radio Equipment
Printers
Smart Cards
Storage Devices
Videoconferencing Equipment
Wireless Communications Equipment - Data
Wireless Communications Equipment - Voice
Hardware Market - Other