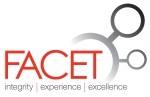 QAssure Details
QAssure number
11132
General Contract
Comprehensive Contract
Supplier's Terms and Conditions
Bespoke Contract
Small-to-medium Business (SME)
Yes
QAssure Commencement Date
26/08/2014
Review Date
26/08/2018
Legal Entity Name
Facet Consulting Pty Ltd
Trading Entity Name
Facet Consulting Pty Ltd
ACN/ARBN/Overseas Org No.
103238759
ABN
93103238759
Street Address
Level 2, 303 Coronation Drive, Milton, Queensland, 4064, Australia
Postal Address
GPO Box 1494, Brisbane, Queensland, 4001, Australia
Phone Number
+61 7 3010 6000
Fax Number
Email
enquiries@facet.com.au
Sales Contact

Mr

Tim

Dargavel

tim.dargavel@facet.com.au

+61 417 009 311

Website Address
www.facet.com.au
Executive Summary
Facet Consulting is a CA Gen Applications services specialist, headquartered in Brisbane, with European offices in London. We have a range of clients in Australia, SE Asia, Europe and the Americas across the financial services, transport, telecommunications, and public sectors.
Capabilities
Note: For those suppliers who currently hold GITC accreditation, to confirm GITC accredited modules and for copies of GITC documentation please contact GITC directly at gitc@qld.gov.au or Ph 07 3719 7689.
Case, Software Development Tools
Diagnostic Software Tools
System Software - Other
Application Software - Other
Developed Software
Developed Solutions
Modifications
Maintenance/Support
Packaged Software
Project Services
Recruitment Services
Contracting Services
Programming
Project Management
System Analysis
Software Training
Audits
Consulting - Information
Project Management
Risk Management Services
System Integration
Network, System and Application Management
Modeling, Analysis and Decision Support
Web Services
Data Conversion and Modification
Human Computer Interface
ICT Security and Data Encryption
Programming Language