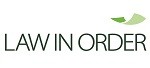 Level 5, 116 Adelaide Street, Brisbane, Queensland, 4000, Australia,
Phone: (07) 3220 1655
Law In Order is Australia's leading supplier of end to end document and digital solutions. Providing specialised technology solutions to over 2,000 law firms, corporations and government agencies nationally; Law In Order prides itself on a reputation of innovation and versatility. We offer a flexible, scalable eDiscovery service that empowers clients to reduce the time, cost and scope of discoveries. Our clients rely on our team of experienced consultants to overcome their discovery challenges.
Suppliers Please Note:
Your QAssure Number is only visible while you have valid Insurance and Financial information.