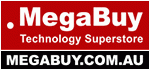 QAssure Details
QAssure number
12315

GITC number

Q-3540
General Contract
Comprehensive Contract
Supplier's Terms and Conditions
Bespoke Contract
Small-to-medium Business (SME)
Yes
Indigenous Business

To qualify as an indigenous business, a business must either: be at least 50% owned by Aboriginal or Torres Strait Islander people; employ at least 75% Aboriginal or Torres Strait Islander people; be an equal joint venture agreement with a majority-owned Aboriginal or Torres Strait Islander business entity.

QAssure Commencement Date
14/06/2017
Review Date
14/06/2018
Legal Entity Name
Megabuy Pty Ltd
Trading Entity Name
Megabuy Technology Superstore
ACN/ARBN/Overseas Org No.
122995859
ABN
74122995859
Street Address
Unit 17670 Gympie RdLAWNTON, Queensland, 4501, Australia
Postal Address
PO Box 84, LAWNTON, Queensland, 4501, Australia
Phone Number
0731371700
Fax Number
0738810792
Email
sales@megabuy.com.au
Sales Contact

Mr

Yury

Karpowicz

yuryk@megabuy.com.au

0402001760

Website Address
www.megabuy.com.au
Executive Summary
MegaBuy is a multi channel IT products supplier to retail, business, education and government customers. Since our inception in 2006, we have been offering competitive prices on widest range of products and can supply from single item orders all the way to large commercial sales. We have over 100,000 products available online and ready for delivery from nearest warehouse to you.
Capabilities
Note: For those suppliers who currently hold GITC accreditation, to confirm GITC accredited modules and for copies of GITC documentation please contact GITC directly at gitc@qld.gov.au or Ph 07 3719 7689.
Packaged Software
Desktop
Midrange and Servers
Hubs, Routers and Switches
LAN/WAN/MAN Data Communication Equipment
Printers
Videoconferencing Equipment
Wireless Communications Equipment - Data
Hardware Market - Other
Components
Storage Devices