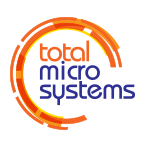 Business Ready QAssure Details
Business Ready QAssure number

14361

Legal Entity Name
The Trustee for MOODIE FAMILY TRUST
Trading Entity Name
Total Microsystems
Website Address
http://www.totalmicrosystems.com.au
Street Address
Shop 3, 5 Peachester Road, Beerwah, Queensland, 4519, Australia
Phone Number
07 5494 0398
Small-to-medium Business (SME)
Yes
Indigenous Business
No

To qualify as an indigenous business, a business must either: be at least 50% owned by Aboriginal or Torres Strait Islander people; employ at least 75% Aboriginal or Torres Strait Islander people; be an equal joint venture agreement with a majority-owned Aboriginal or Torres Strait Islander business entity.

Financial Check
No
General Contract
Comprehensive Contract
Supplier's Terms and Conditions
Bespoke Contract
Commencement Date
23/08/2018
Review Date
23/08/2019
ACN/ARBN/Overseas Org No.
130591909
ABN
23061784854
Postal Address
PO Box 545, Beerwah, Queensland, 4519, Australia
Fax Number
Email
tara@totalmicrosystems.com.au
Sales Contact

Mr

Andrew

Sybenga

sales@totalmicrosystems.com.au

07 5494 0398

Executive Summary
Total Microsystems is a locally owned and operated technology business that has been looking after customers for 20 years. Based in Beerwah but servicing the Sunshine Coast and beyond, we offer a complete range of IT services for both home users and small to medium businesses. At Total Microsystems, we pride ourselves on providing an honest, efficient and friendly IT service at affordable prices. Whether it's a major IT disaster or just a smashed phone screen –we are here to help.
Capabilities
Note: For those suppliers who currently hold GITC or QITC accreditation, to confirm accredited modules and for copies of documentation please contact QITC directly at qitc@qld.gov.au
Components
Desktop
Midrange and Servers
Hubs, Routers and Switches
LAN/WAN/MAN Data Communication Equipment
Printers
Storage Devices
Videoconferencing Equipment
Wireless Communications Equipment - Data
Hardware Market - Other
Maintenance/Support
Preventative Maintenance Services
Remedial Maintenance Services
Operating System
Printed Circuit Boards
Web Design and Development
Web Services
Help Desk Services
Maintenance/Support
Consulting - Information
Disaster Recovery
Hosting Services
Internet Services
Remote Access Services
Search Engine Registration Services