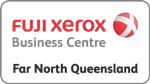 QAssure Details
QAssure number
15792

GITC number

Q-4216
General Contract
Comprehensive Contract
Supplier's Terms and Conditions
Bespoke Contract
Small-to-medium Business (SME)
Yes
Indigenous Business

To qualify as an indigenous business, a business must either: be at least 50% owned by Aboriginal or Torres Strait Islander people; employ at least 75% Aboriginal or Torres Strait Islander people; be an equal joint venture agreement with a majority-owned Aboriginal or Torres Strait Islander business entity.

QAssure Commencement Date
21/06/2016
Review Date
21/06/2018
Legal Entity Name
FXBCCNS Pty Ltd
Trading Entity Name
Fuji Xerox Business Centre Cairns
ACN/ARBN/Overseas Org No.
146312978
ABN
98146312978
Street Address
50 Scott Street, Bungalow, Queensland, 4870, Australia
Postal Address
PO Box 206, Bungalow, Queensland, 4870, Australia
Phone Number
07 4044 7900
Fax Number
07 4044 7999
Email
datkinson@fxcairns.com.au
Sales Contact

Mr

Daniel

Atkinson

datkinson@fxcairns.com.au

07 4044 7900

Website Address
www.fxcairns.com.au
Executive Summary
Exceptional Service delivered by . . . The highest quality equipment. There's a reason why a Fuji Xerox device weighs twice as much as many competing brands. It's built to last. Continuity. We've been successfully operating in Cairns since 1983, so you know we'll be here when you need us. 24/7/365 phone support. During regular hours, you can talk with one of our local staff members but rest assured that outside of these hours our Sydney based team are highly trained to resolve all issues.
Capabilities
Note: For those suppliers who currently hold GITC accreditation, to confirm GITC accredited modules and for copies of GITC documentation please contact GITC directly at gitc@qld.gov.au or Ph 07 3719 7689.
Facsimile
Printers
Smart Cards
Maintenance/Support
Preventative Maintenance Services
Remedial Maintenance Services
Network, System and Application Management
Office Automation
Application Software - Other
Help Desk Services
Maintenance/Support
Packaged Software
Contracting Services
Software Training
Consulting - Information
Project Management
ICT Facilities Management